SVS Industry Alliance Program

Support Levels & Enhancements
The Society for Vascular Surgery (SVS) and its Foundation are well-positioned to help your organization exceed its business objectives. Whether your goal is to increase engagement with our vascular leaders, raise brand awareness, or establish new relationships with our subject matter experts we have many opportunities available to leverage your goals.
Please fill out the form below to obtain more info.
Levels of Support:
PLATINUM: $250K | GOLD: $150K | SILVER: $100K | BRONZE: $30K
Image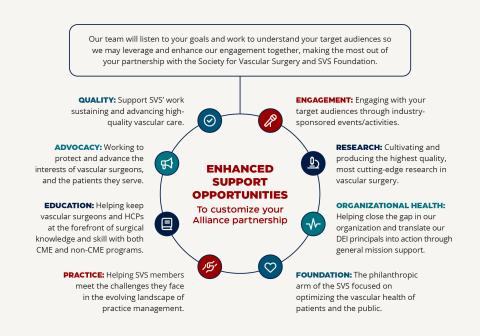 BENEFIT
PLATINUM
$250K
GOLD $150K
SILVER $100K
BRONZE $30K
Dedicated single point of contact for all needs/requests
x
x
x
x
Recognition in the SVS Foundation annual report and on the SVS Headquarters' wall
x
x
x
x
Company logo on SVS website
Includes individual landing page & link to company website 
x
x
x
Included in Newsletter Logo lock
x
x
x
x
Recognition riboon for each organizational representative (During VAM)
x
x
x
x
Participate in partner issue briefing with SVS and SVSF leadership and key staff (Town Hall)
x
x
x
 
Annual Partnership metrics report
x
x
x
 
Individual meeting(s) with SVS leadership and key staff
2
1
 
 
Option to participate in "donor matching" programs
x
x
 
 
Newsletter Feature
x
 
 
 
First right of refusal for select VAM sponsorships 
x
 
 
 
Quarterly recognition with ad in Vascular Specialist
x
 
 
 
SVS Industry Alliance Membership(s)
8
5
3
1
Recognition in VAM daily newspaper
Logo & booth number
Logo & booth number
Name & booth
Name only
All support provided, no matter in which category - programmatic or unrestricted general mission support - is combined to determine your Ally Partnership level.