Through active presentation and participation in this completely online Journal Club, we educate vascular surgical trainees in the interpretation of high-level clinical and basic science articles and how to appropriately apply the information to clinical practice and future research.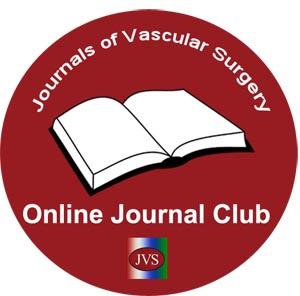 Format
Online via Zoom, recorded
Monthly (second Tuesday, Wednesday or Thursday of each month)
Two articles, both contemporaneous from the Journals of Vascular Surgery
Format for each article presentation

Introductory comments by the hosting faculty member
Presentation by the hosting vascular resident/fellow
Discussion led by faculty member/authors/nationally-recognized guests
To sign up to host the JVS Journal Club in 2022, please complete this form. 
Subscribe the the JVS Journals YouTube channel to receive alerts when new videos are available. 
Past and Scheduled JClubs
2022 Journal Clubs
Date
Hosted by
Articles Discussed
Register
Recorded Version

Jan. 12, 2022

8 p.m. EST

University of Michigan

Darthmouth-Hitchcock

A more proximal landing zone is preferred for thoracic endovascular repair for acute Type B aortic dissections 

The natural history of large abdominal aortic aneurysms in patients without timely repair

NA
Watch now

February, 9th, 2022

6 p.m. EST

New York University 

Penn State University 

Predictors of outcome in diabetic patients undergoing
infrapopliteal endovascular revascularization for chronic
limb-threatening ischemia

Intraoperative blood pressure lability carries a higher risk of
headache after carotid endarterectomy

NA
Watch now

March 15, 2022

8 p.m. EST

University of California, San Francisco

Carolinas Medical Center

Percutaneous arteriovenous fistula creation with the 4F WavelinQ EndoAVF System

Perioperative outcomes of carotid endarterectomy and transfemoral and transcervical carotid artery stenting in radiation-induced carotid lesions

NA
Watch now

April 13, 2022 

7 p.m. EST

University of Iowa 

University at Buffalo 

Predictors of mortality in nonagenarians undergoing abdominal aortic aneurysm repair:  analysis of the National Surgical Quality Improvement Program dataset

Outcomes of carotid artery stenting in patients with radiation arteritis compared with those with atherosclerotic disease

NA
Watch now

May 11, 2022

8 p.m. EST

Hofstra/Northwell

Hartford 

Contemporary management of acute and chronic mesenteric ischemia: 10-year experience from a multihospital healthcare system

Outcomes of balloon-expandable versus self-expandable stent graft for endovascular repair of iliac aneurysms using iliac branch endoprosthesis

NA 
Watch now

July 14, 2022 

8 p.m. EST

University of Rochester

Oregon Health and Science University

Prophylactic sac outflow vessel embolization is associated with improved sac regression in patients undergoing endovascular aortic aneurysm repair

Failure to preserve the internal iliac artery during abdominal aortic aneurysm repair is associated with mortality and ischemic complications

NA
Watch now

August 10, 2022

8 p.m. EST

Stony Brook University Hospital 

The University of Alabama at Birmingham

Center volume is associated with diminished failure to rescue and improved outcomes following elective open abdominal aortic aneurysm repair

Natural history and growth rates of isolated common iliac artery aneurysms

NA
Watch now

September 15, 2022 

8 p.m. EST

University of South Florida 

Severity of stenosis in symptomatic patients undergoing carotid interventions might influence perioperative neurologic events

Impact of an emergency endovascular aneurysm repair protocol on 30-day ruptured abdominal aortic aneurysm mortality

NA
Watch now

October 12, 2022

7 p.m. EST

University of Washington 

University of Utah 

Transcarotid artery revascularization is safe in necks with anatomy hostile for carotid endarterectomy

Trends in annual open abdominal aortic surgical volumes for vascular trainees compared with annual national volumes in the endovascular era

NA
Watch now

November 9, 2022

7 p.m. EST

Cedars Sinai

University of Indiana 

Racial and ethnic disparities in 3-year outcomes following infrainguinal bypass for chronic limb-threatening ischemia

Disparities in 5-year outcomes and imaging surveillance following elective endovascular repair of abdominal aortic aneurysm by sex, race, and ethnicity

NA
Watch now

December 14, 2022 

7 p.m. EST

 
 
Coming soon!
 
2021 Journal Clubs
Date
Hosted by
Articles Discussed
Register
Recorded Version

Jan. 14, 2021

8 p.m. EST

Houston Methodist Hospital–Dr. Trisha Roy

Staten Island University Hospital – Dr. Jonathan Schor

Carotid artery plaque echomorphology and its association with histopathologic characteristics

The benefit of deferred carotid revascularization in patients with moderate-severe disabling cerebral ischemic stroke

NA
Watch now

Feb. 10, 2021

7 p.m. EST

Medical University of South Carolina – Dr. Elizabeth Genovese

Michigan Vascular Center – Dr. Mark Mattos

Increased mortality with paclitaxel-eluting stents is driven by lesion length

Perivascular delivery of resolvin D1 inhibits neointimal hyperplasia in a rabbit vein graft model

 

NA
Watch now

March 10, 2021

6 p.m. EST

Maine Medical Center – Dr. Elizabeth Blazick

 

Carolinas Medical Center – Dr. Charles Briggs

Fast-track thrombolysis protocol: A single-session approach for acute iliofemoral deep venous thrombosis

Effect of concomitant deep venous reflux on truncal endovenous ablation outcomes in the VQI

NA
Watch now

April 14, 2021

8 p.m. EDT

University of Buffalo – Dr. Linda Harris

 

Mount Sinai Health System – Dr. Daniel Han

Association between surgeon case volume and years of practice experience with open abdominal aortic aneurysm repair outcomes

Long-term outcomes following use of a composite Wallsten-Z stent approach to iliofemoral venous stenting

NA
Watch now

May 13, 2021

8 p.m. EDT

University of Washington – Dr. Matthew Smith

 

Keck Medical Center of USC – Dr. Vincent Rowe

Endovascular interventions for claudication do not meet minimum standards for the Society for Vascular Surgery efficacy guidelines

Validation of the Global Limb Anatomic Staging System in first-time lower extremity revascularization

NA
Watch now

June 9, 2021

7 p.m. EDT

SUNY Upstate Medical University – Dr. Palma Shaw

 

University of Alabama Birmingham – Dr. Benjamin Pearce

Sex-related disparities in intervention rates and type of intervention in patients with aortic and peripheral arterial diseases in the National Inpatient Sample Database 

Outcomes after transfemoral carotid artery stenting stratified by preprocedural status 

NA
Watch now

July 14, 2021

7 p.m. EDT

University of Rochester – Dr. Michael Stoner

St. Louis University – Dr. Matthew Smeds

Primary mechanism of stroke reduction in transcarotid artery revascularization is dynamic flow reversal 

Comparison of surgical versus percutaneously created arteriovenous hemodialysis fistulas 

NA
Watch now

Aug. 10, 2021

8 p.m. EDT

University of Texas

University Hospitals Cleveland

Fenestrated-branched endovascular aortic repair is a safe and effective option for octogenarians in treating complex aortic aneurysm compared to non-octogenarians  

Impact of Impaired Ambulatory Capacity on The Outcomes of Peripheral Vascular Interventions Among Patients with Chronic Limb Threating Ischemia

NA
Watch Now

Sept. 16, 2021

9 p.m. EDT

Loyola University Medical Center

Advocate Good Samaritan Hospital

Clinical Outcomes of Venous Self-Expanding Stent Placement for Ilio-femoral Venous Outflow Obstruction     

Pelvic venous insufficiency secondary to iliac vein stenosis and ovariam vein reflux treated with iliac vein stenting alone

NA
Watch Now

Oct. 13, 2021

8 p.m. EDT

University of Florida

Lenox Hill

Evaluation of revascularization benefit quartiles using the Wound, Ischemia, and foot Infection classification system for diabetic patients with chronic limb-threatening ischemia

Trends in the use of cerebrospinal drains and outcomes related to spinal cord ischemia after thoracic endovascular aortic repair and complex endovascular aortic repair in the Vascular Quality Initiative database 

NA

Nov. 9, 2021

6 p.m. EST

 

Cedars Sinai

Indiana University

Preoperative risk score accuracy confirmed in a modern ruptured abdominal aortic aneurysm experience

Effects of supervised exercise therapy on blood pressure and heart rate during exercise, and associations with improved walking performance in peripheral artery disease: Results of a randomized clinical trial

NA
Watch Now

Dec. 14, 2021

8 p.m. EST

Louisiana State University

Thomas Jefferson University

Outcomes of bypass and endovascular interventions for advanced femoropopliteal disease in patients with premature peripheral artery disease

Pre and postoperative predictors of clinical outcome of fenestrated and branched endovascular repair for complex abdominal and thoracoabdominal aortic aneurysms in an Italian multicenter registry

NA