Partnering with Podiatrists for Comprehensive Lower Extremity Vascular Care 
Surgery is Only Part of our Story
Comprehensive vascular care for limb salvage requires close collaboration and communication between podiatrists and vascular surgeons. Such collaboration is especially important when treating patients with lower extremity wounds and diabetic foot ulcers, many of whom suffer from peripheral artery disease.
Working together, we develop patient-centered care plans based on our established, evidence-based care pathways, the latest research, and advances. Many of these pathways have been formulated through collaboration of the Society of Vascular Surgery (SVS) and the American Podiatric Medical Association (APMA), including new insights on prevention, diagnosis and ongoing management of DFU and vascular disease.
We envision partnering with you to make comprehensive vascular care part of your patients' healthy future. Preventing unnecessary amputations and maintaining independent ambulation and high functional status for our patients is best accomplished by teamwork between podiatrists and vascular surgeons.
Why refer to a Vascular Surgeon?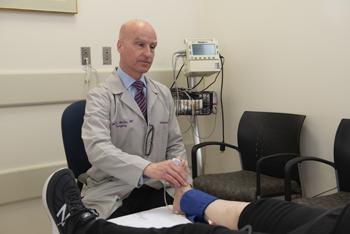 Vascular surgeons dedicate their entire training to address the full spectrum of vascular health and disease. As the only specialists board-certified in vascular surgery, partner with a vascular surgeon for their disease-focused, not technique-focused, expertise.
This includes a vascular surgeon's comprehensive approach to providing you and your patients with the widest array of available options, including:
Prevention
Medical therapy
Multiple (endovascular and open surgical) revascularization options
Ongoing disease management
Vascular surgeons are experts in the diagnosis, assessment of perfusion and vascular imaging studies, and treatments for limb salvage.
Vascular surgery is a unique discipline among the American Board of Medical Specialties, with specific training requirements to study the natural history and medical treatments of PAD, DFU, CLTI and other conditions affecting lower extremities.
Who should you refer to a Vascular Surgeon?
Consider engaging with a vascular surgeon as soon as possible to learn about all treatment options and to help create a care plan that will result in the best long-term outcome for your patient. Learn more and have more meaningful conversations with your patients about the following lower-extremity vascular conditions.
Please click on the highlighted conditions to view guidelines jointly developed by the SVS and the APMA.
Peripheral Arterial Disease

Claudication
Chronic Limb-Threatening Ischemia (CLTI)
Diabetic Foot Ulcer (DFU)
Non-Healing Wounds
Gangrene

Peripheral Aneurysm
Venous Disease

Acute Deep Vein Thrombosis
Pulmonary Embolism
Chronic Venous Insufficiency
Varicose Veins
Where can you find a Vascular Surgeon?
To find a board-certified vascular surgeon, click on the link below, enter your zip code and select the preferred distance from your practice.