Vascular Surgery is an essential component of a hospital's overall surgical program and performance. Often under-valued in the eyes of health system leadership, it is critical that health system leaders understand:
Vascular surgery is necessary for a safe operating room environment and has a significant impact on lowering mortality and morbidity.
Vascular surgery enables many other service lines that are significant revenue generators for a health system.
Vascular surgery, endovascular and vascular medical care represent significant growth opportunities due to increasing prevalence and incidence nationally.
 
Value of Vascular Surgery Report and Supporting Documents
Under the leadership of the SVS Valuation Work Group, the Value of Vascular Surgery Report was developed in partnership with Sg2, the premier authority in health care trends, insights and market analytics.  The report provides objective data compiled from Sg2 and external sources, including analysis of national trends, to measure the importance and financial impact of vascular services to health systems. 
SVS members are encouraged to download the report and summary presentation and use these resources to engage with their hospital leadership.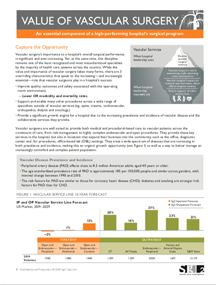 Distribution by Sg2
On June 25, 2020, the Value of Vascular Surgery Report was released as the featured story in This Week from Sg2, reaching Sg2's membership of 220 healthcare organizations representing more than 1,600 not-for-profit, for profit and academic health system providers. In addition, Sg2 experts and intelligence team will share the report with their members interested in developing or strengthening their vascular program. The report is also available on the Sg2 website as a resource.
 
Sg2 EDGE Clients Are Located Across the Country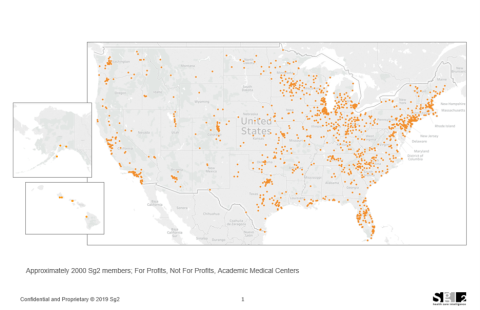 Ongoing Support of Vascular Service Lines
The SVS Valuation Work Group, in partnership with Sg2, is committed to helping SVS members advance vascular surgery at their hospital or health system.  
SVS and Sg2 are actively exploring solutions that will provide hospitals and vascular surgeons with the support and resources they need to augment and accelerate local transformation of vascular services.
Contact Us
Tell SVS what additional tools will help you have meaningful conversations with referral sources and hospital leadership by clicking HERE.
For questions, email communications@vascularsociety.org.