Powered by Phairify.
Delivering the Professional Information Vascular Surgeons Need
The Society for Vascular Surgery (SVS) has partnered with Phairify to provide SVS members exclusive free access to vascular surgery-specific compensation, practice, and productivity data that can help you take control of your career.
Learn Your Professional Value and Take Better Control of Your Career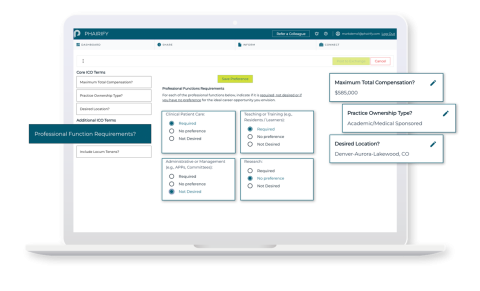 The SVS Compensation Study provides vascular surgeons with access to anonymous, crowdsourced compensation, practice, and productivity data specific to their specialty and practice situation. Empowered by data, vascular surgeons can expand their understanding of their value and how this should translate into worth.
Take advantage of your free and unlimited access to Phairify as an exclusive SVS member benefit. Leverage personalized market intelligence by completing the anonymous, 15-minute compensation and productivity study. The inclusion criteria is being a US-based active practicing physician and having a current email on file with SVS.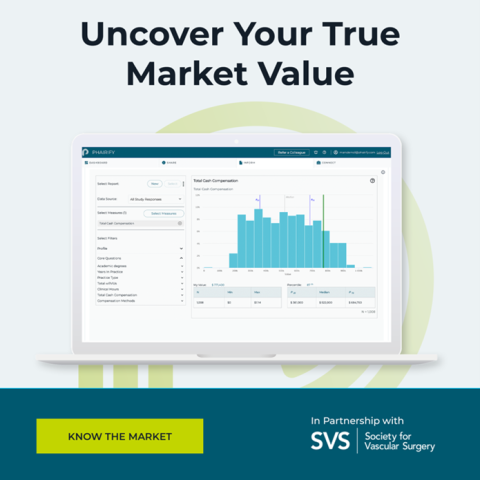 Phairify Resources 
To learn more about the benefits of Phairify, see the recent DeBakey CV Live interview and selected case study and article, below, and access more resources on Phairify's Resources page.
Please direct any questions to SVSQuality@vascularsociety.org for assistance.
Phairify Office Hours
Join Phairify cofounders Dr. Randy Green and Dr. Stephen Thomas each week to ask any questions you might have about how to access and understand these vascular surgery data during regular open Office Hours starting September 28.
Tuesdays - 9:00 - 9:30 am CT 
Join Zoom Meeting Meeting ID: 845 2346 8939 Passcode: 065088
Thursdays - 8:00 - 8:30 pm CT 
Join Zoom Meeting Meeting ID: 885 7745 3577 Passcode: 819233
You may send any questions in advance to Dr. Green and Dr. Thomas at officehours@phairify.com.
Frequently Asked Questions (FAQs)
View the FAQs for the compensation study here.
Check out the FAQ videos below.
How to register:
 How to take the study: 
Accessing and Using the Inform Database for Vascular Surgery