Celebrating Women's History Month - A Profile on Misty Humphries, MD, MAS, RPVI, FACS
Misty D Humphries, MD, MAS, RPVI, FACS, is an associate professor of surgery at the University of California, Davis Medical Center. She specializes in open vascular and advanced endovascular treatment for arterial and venous disease.
---
Misty D. Humphries, M.D., is a woman who loves vascular due to the delicate nature of the work. No two procedures are ever the same for her, and every day brings in new challenges for her to overcome. As Humphries stated, there will always be a twist with every patient, with no two distal bypasses being the same.
Humphries received her medical degree from Texas A&M University (formerly known as Agricultural and Mechanical College of Texas) in College Station, Texas, in 2003. The years following were filled with a residency at University of California, Davis School of Medicine (2004-2010), a fellowship from Sloan Kettering Cancer Center in New York (2006) and a fellowship from the University of Utah (2010).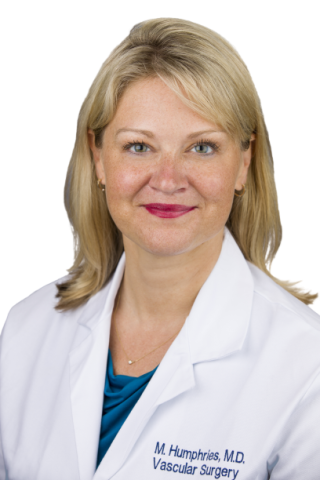 "Women represent more than 50 percent of the students in medical school, yet we are only a small fraction of vascular surgeons," said Humphries. "I'm proud to be one of the women who accepts the challenge of a field thought to be too hard for many."
Humphries believes that women bring in a new level of compassion and understanding to the diseases seen in vascular. Her love for the procedures extends to every patient she meets as she strives to do everything she can as a health professional.
Even with all the compassion she has for the field, Humphries' days are met with resistance within the practice due to gender disparities.
"It's challenging trying to find the voice to speak up when everyone in the room has a different opinion," said Humphries. "It's so hard to get out of bed day after day knowing that you will be talking to a group that doesn't look like you or get your ideas. Women in vascular surgery do this every day."
Healthcare facilities have begun to diversify their workspaces, but still face issues with the inclusion of different perspectives. Humphries believes diversity in a group can bring in a multitude of ideas that push said groups to think differently. She reveres the women who came before her and that fought for a space in the field. Drs. Linda Reilly, Julie Freischlag, Kellie Brown and Ruth Bush were some she named as leaders she admires who continue to push the boundaries of what women can accomplish, regardless of gender.
The Society for Vascular Surgery is committed to nurturing greater diversity, equity and inclusion (DEI) into all committees and membership levels. In 2021, the SVS approved a new membership section for women in vascular surgery, with the intent to strengthen communication and collaboration of women in vascular surgery for leadership roles. Humphries admires what this advancement is for women in health care but sees it as only the first step towards change.
"The SVS has developed the Women's Section and has made steps for women's inclusion, but there is still much to do. Women should be represented at all levels, and many community women surgeons are not active in the SVS," said Humphries. "The SVS has the unique ability to impart change on a large scale to improve equality."
Humphries urges everyone to make a donation to the SVS Foundation this Women's History Month to celebrate all young researchers who want to explore the advancements in vascular surgery.
"The SVS foundation has been instrumental in my career. It has supported some of my big dream ideas with grant funding, and it's how I developed my work and received NIH funding. I will always be grateful to the Foundation," said Humphries.
Her NIH-funded research centers on the prevention of lower-extremity amputations for patients in rural clinics with peripheral artery disease and the use of telemedicine to bring multidisciplinary wound care to communities.
Your gift to the SVS Foundation supports the Women of Vascular – past, present and future. Learn more and  make your gift  today.