Celebrating Women's History Month - A Profile on Julie Freischlag, MD, FACS, FRCSEd(Hon), DFSVS, MAMSE
Julie A. Freischlag, MD, FACS, FRCSEd(Hon), DFSVS, MAMSE is the Chief Academic Officer and Executive Vice President of Advocate Health, Chief Executive Officer of Atrium Health Wake Forest Baptist, and Executive Vice President for Health Affairs of Wake Forest University.
---
At the beginning of her medical school journey, Dr. Julie Freischlag believed she would become a pediatrician. However, things changed once she enrolled at Rush Medical College and chose to begin with her surgery clerkship. She acquired a love for surgery and went on to do her residency at the University of California, Los Angeles (UCLA), with her first intern rotation being on vascular surgery.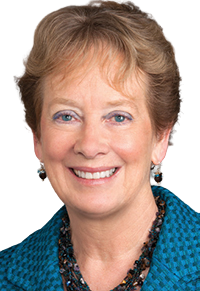 During her time at UCLA and the University of California, surgeons such as Wesley Moore, J. Dennis Baker, Herbert Machleder, and Ronald Busuttil served as mentors and role models. However, Dr. Freischlag looked up most to Dr. Carol Raviola, the first woman to complete a residency in general surgery at UCSF and the first fellow in vascular surgery at UCLA. Dr. Raviola's accomplishments greatly inspired Freischlag, as did those of other women pioneers in medicine, including Kathy Anderson, Patricia Numann, and Linda Reilly. 
Eventually, Freischlag would go on to become the sixth woman in the country to receive her vascular board certificate in vascular surgery. She is proud to be one of the first women in vascular surgery but is even prouder of all the women who have entered the field of vascular surgery since then. Freischlag loves hearing about all the accomplishments of the women who make up the vascular surgery community.
She finds great importance in demographic representation in medicine. She believes that a workforce should reflect its patients, that teams work better when there is diversity and that diversity equates to better outcomes and opportunities for both the patients and the medical team.
Dr. Freischlag believes the Society for Vascular Society is doing a great job in encouraging young women to join the specialty. Currently, Freischlag holds the title of the only woman president of the SVS, but she hopes as the Society creates opportunities for female vascular surgeons, that there will soon be more women in leadership roles. The SVS Foundation plays a key role in supporting women through grant support and scholarships. She believes gifts made to the SVS Foundation in celebration of Women's History Month will serve as a contribution towards women's leadership opportunities.  
Dr. Freischlag recognizes that being a woman in vascular surgery does not come without its own set of challenges. There are continuous urgent and emergent needs arising in the surgery field which means surgeons are constantly on call and must be flexible. It is important to learn to have a work-life balance. When needed, she encourages women to reach out for support from their friends, family, and communities around them.  
Your gift to the SVS Foundation supports the Women of Vascular – past, present and future. Learn more and make your gift today.