SVSConnect App Now Available
The SVSConnect mobile app — for cell phones and tablets — brings easy access to collaboration, engagement and communication with your SVS member colleagues and thought leaders.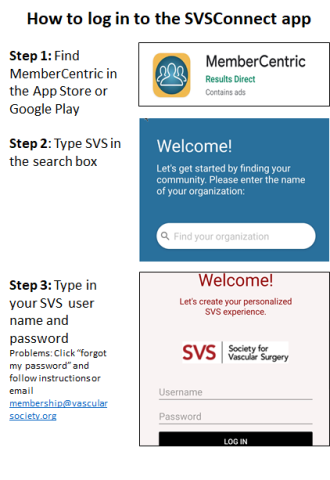 It only takes a few minutes to get set up – just follow the below steps.
Search for "MemberCentric" in either the App Store or Google Play.
Download the "MemberCentric (HUG)" app.
Once installed, search for "SVS" on the welcome screen.
Login with your SVS account credentials.
Hit 'OK' when you receive a notification prompt about the app icon change.
Join a discussion, search for fellow members and share resources right from your phone.
Within the app you can do everything you're able to do on your desktop computer, but more easily. Continue discussing topics such as outpatient treatment centers, popliteal artery access and carotid surveillance imaging. Follow our newly launched bi-weekly "Tip Tuesday" that we share to enhance both your community experience and your SVS membership experience. Coming soon, we'll have smaller communities where committees, affiliate members or interest groups can communicate and collaborate privately.
Get started today to join the discussion, expand your network and build your community.