Celebrating Women's History Month - A Profile on Kristina Giles, MD
Dr. Giles is currently the Chief of Vascular and Endovascular Surgery at Maine Medical Center. She began her career at the University of Florida where she was chair of quality for the Department of Surgery and associate program director for the Vascular Surgery Fellowship.
---
Vascular surgery was an unknown specialty to me until I was well into medical school. Many fortuitous events happened during my education and residency training that led to greater exposure to vascular surgery. Most importantly, in planning my general surgery residency 'lab time', I collaborated with Marc Schermerhorn, M.D., to craft a research experience centered in health services research; this was reasonably rare for research years at that time. I can say I never looked back as I had unparalleled mentorship from there that sold the specialty as a career for me.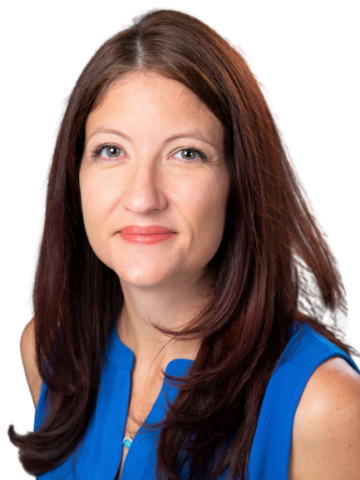 When I began to attend the Society for Vascular Surgery events and other meetings (2007 was my first Vascular Annual Meeting), the number of females in the room was extremely limited. The females that stood out at that time were so important to me and were the next wave coming up. I would do a disservice to all if I said a few names but left some out, but they were models of academic and clinical success. I remember quotes from all that truly resonated with and inspired me. Even in limited numbers, the representation was so strong and admirable that innumerable women are in this field today because of them.
I am so happy to have seen the face of vascular surgery morph during my years in the field. I currently have more female than male partners and we can frequently look around a room and realize that there are only females present; This used to be notable, but now it doesn't even register. I am proud that women have broken down barriers paving the way for others. Seeing the number of female chiefs and chairs is particularly exciting. Having not had females in leadership roles during my early years in the field, I think it is amazing that we can show our future generations that these opportunities are out there. I believe it is critical to have all genders represented in all aspects of the field to continue drawing the best and brightest to our specialty.
My first VAM was attended on an SVS Foundation scholarship before I had any research under my belt to present and justify institutional support. The Foundation has been a strong advocate for promoting diversity and inclusion. They have established programs and initiatives aimed at providing mentorship, education, and career development opportunities for women at all levels of training and beyond. The SVS has partnered with women and helped to foster an environment where women can thrive in vascular surgical careers and have contributed to advancing the field for the benefit of all patients. I am particularly proud that the SVS Leadership Development Program has drawn an outstanding proportion of women including the recipients of our mastery grants.
I'm sure everyone has a VAM fangirl (or fanboy) story just like I do. Now just imagine that students and residents could probably say the same when seeing you at the podium or in a crowd. The next generation needs our support to continue to strengthen our specialty and we can give back to the foundation to help reach these goals.
Your gift to the SVS Foundation supports the Women of Vascular – past, present and future. Learn more and make your gift today.