Image

SVS & SVSF Celebrate Black History Month
The SVS and SVS Foundation join together to celebrate Black History Month. The SVS and SVSF have come together to create the Voices of Vascular Series to aid in the expansion of diversity, equity and inclusion initiatives throughout each entity. Visit this webpage throughout the month of February to learn new facts and explore profiles of various Black SVS members.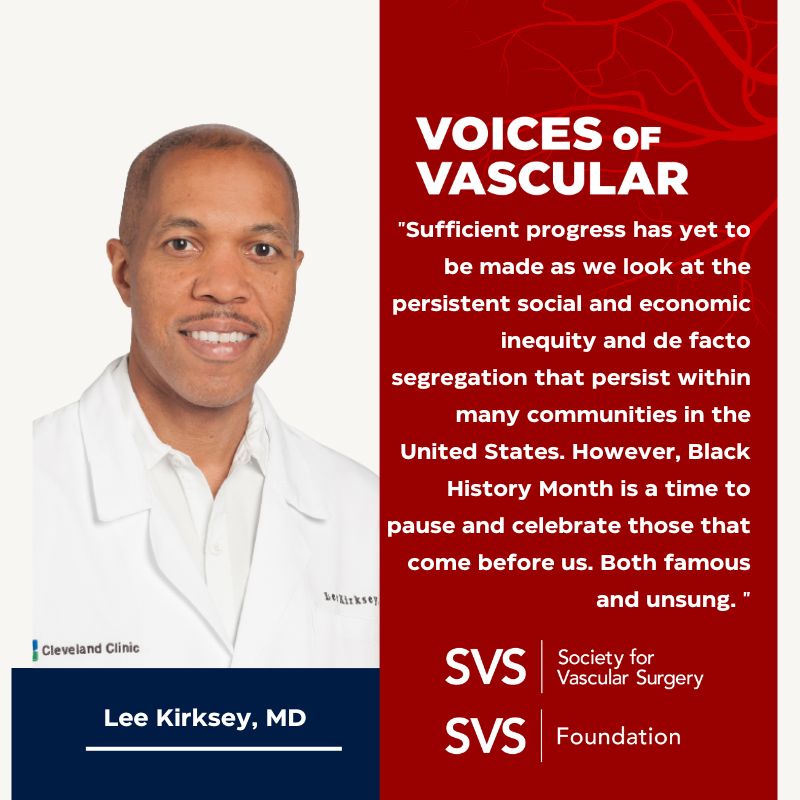 Member Feature
"I would like to romanticize it and claim that it was love at first site…but I would be lying. Vascular surgery was my first my very first surgery experience as a third-year medical student at Ohio State University. I experienced extremely long days and long operations, and for unclear reasons, medical students were preferred over fixed retractors.  At that time, very few medical students were "courted and supported" the way they are now. Although I knew that I liked "the action" of the surgical services, vascular surgery was not high on my list heading into general surgery residency... "
Body
Additional Member Features  
Read the features of the SVS Members who were featured in throughout previous weeks. 
Body
My Health Monday
Throughout February, visit this page each Monday for a new fact regarding vascular health for the Black population. 
Week 1
Racial and ethnic disparities in major adverse limb events persist for chronic limb threatening ischemia despite presenting limb threat severity after peripheral vascular intervention: In this review of collected Vascular Initiative data, they found that Black/African American and Latinx/Hispanic patients have a higher associated hazard of major adverse limb events after peripheral vascular intervention for chronic limb threatening ischemia compared with White patients, despite accounting for the WIfI (wound, ischemia, and foot infection) stage at presentation (Black/African American: subdistribution hazard ratio, 1.30; 95% confidence interval, 1.17-1.44; P < .001; Latinx/Hispanic ethnicity: subdistribution hazard ratio, 1.58; 95% confidence interval, 1.37-1.81; P < .001).
Week 2
The Epidemiology of End-Stage Renal Disease among African Americans: End-stage renal disease (ESRD) occurs almost 4 times more commonly in African Americans than in their white counterparts. Diabetes affects African American men at a rate nearly 50% greater than that of whites; for African American women, the rate is nearly 100% greater.
Week 3 
Poorer limb salvage in African American men with chronic limb ischemia is due to advanced clinical stage and higher anatomic complexity at presentation: African Americans (AAs) with symptomatic peripheral arterial disease (PAD) have been reported to have fewer revascularization attempts and poorer patency and limb salvage (LS) rates than Caucasians (CAUs).  More than 8 million people in the United States have peripheral arterial disease (PAD), a disproportionate number of whom are African Americans (AAs). AA patients with critical limb ischemia (CLI) are more likely to undergo a primary amputation and are less likely to have revascularization.
Week 4
 

Race affects adverse outcomes of deep vein thrombosis, pulmonary embolism, and acute kidney injury in coronavirus disease 2019 hospitalized patients: The incidence of deep vein thrombosis (DVT) and pulmonary embolism (PE) in hospitalized patients with COVID-19 (coronavirus disease 2019) was 8.7%. We found significant differences (P = .03) in the DVT and PE rates between Black/African American patients (16.2%), Asian patients (10.4%), White patients (7.5%), and patients of other races (4.4%). We found no racial differences in all-cause or venous thromboembolism-related mortality. Among hospitalized patients with COVID-19, Black/African American patients were the most vulnerable to DVT/PE but had had no significant increase in venous thromboembolism-related mortality.
Fund the Future of Vascular Health
Your donation will be used to support the Mission of the SVS Foundation and will be used to fund activities in the following areas: Research & Innovation; Community Vascular Care & Patient Education; Disease Prevention and Diversity, Equity and Inclusion.