Image

SVS & SVSF Celebrate Women's History Month
The SVS and SVS Foundation join together to celebrate Women's History Month. The SVS and SVSF have come together to create the Voices of Vascular Series to aid in the expansion of diversity, equity and inclusion initiatives throughout each entity. Visit this webpage throughout the month of March to learn new facts and explore profiles of various SVS members who identify as female. 
Body
My Health Monday
Week 4
Stroke risk increases in women who:

Are pregnant
Have preeclampsia
Take birth control pills
Use hormone replacement therapy
Have migraines with auras and smoke
Have atrial fibrillation

- American Heart Association 
Go Red for Women
Week 3
Stroke is the number three cause of death in women with strokes killing over 85,000 women per year. One in 5 women will have a stroke. About 55,000 more women than men have a stroke each year.

- American Heart Association 
Go Red for Women
Week 2
Over 60 million women (44%) in the United States are living with some form of heart disease.2 Heart disease is the leading cause of death for women in the United States and can affect women at any age. In 2020, it was responsible for the deaths of 314,186 women—or about 1 in every 5 female deaths.1 Research has shown that only about half (56%) of US women recognize that heart disease is their number 1 killer.3

- Centers for Disease Control and Prevention
Week 1
Among females 20 years and older, nearly 45% are living with some form of cardiovascular disease and less than 50% of women entering pregnancy in the United States have good heart health. Cardiovascular disease is the No. 1 killer of new moms and accounts for over on-third of maternal deaths. Black women have some of the highest maternal mortality rates.

-American Heart Association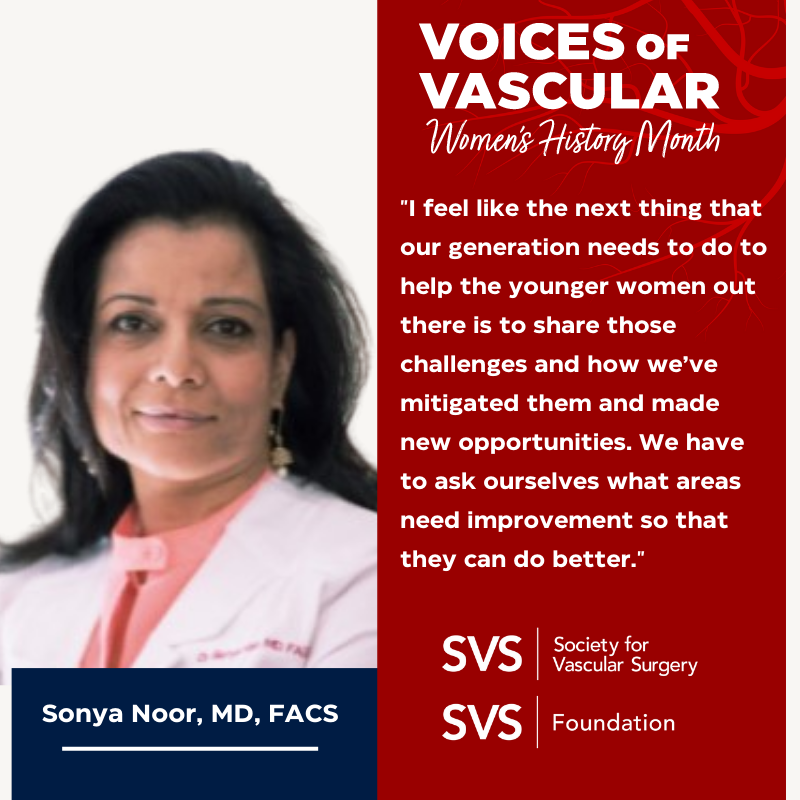 Women's History Wednesday
Sonya S. Noor, MD, FACS, took the hand she was dealt with in life and created a name for herself as a successful vascular surgeon. She began her medical career in 1992 when she graduated from Calcutta Medical College in Calcutta, India, and soon moved to North America with the dream of becoming a surgeon...
A Look Into a Mentor/Mentee Relationship
Melissa Kirkwood, M.D., is an associate professor and department chief of the Division of Vascular and Endovascular Surgery at the University of Texas Southwestern Medical Center. She has been a faculty member at UT Southwestern for about 12 years, after completing a fellowship at the University of Pennsylvania Medical Center back in 2011. In the five years that Vascular Surgery Fellow, Jacqueline Babb, MD has known Dr. Kirkwood, she has fallen in love with vascular under Dr. Kirkwood's guidance.
Kristina Giles, MD
Vascular surgery was an unknown specialty to me until I was well into medical school. Many fortuitous events happened during my education and residency training that led to greater exposure to vascular surgery...
Read More on Dr. Giles
Julie Freischlag, MD
At the beginning of her medical school journey, Dr. Julie Freischlag believed she would become a pediatrician. However, things changed once she enrolled at Rush Medical College and chose to begin with her surgery clerkship...
Read More on Dr. Freischlag
Ruth Bush, MD
Dr. Ruth L. Bush has over two decades of vascular surgery experience under her belt and has made herself known as a leader within the specialty. In the last decade, she was elected to the American College of Surgeons Academy of Master Surgeon Educators...
Read More on Dr. Bush
Misty Humphries, MD
Misty D. Humphries, M.D., is a woman who loves vascular due to the delicate nature of the work. No two procedures are ever the same for her, and every day brings in new challenges for her to overcome. As Humphries stated, there will always be a twist with every patient, with no two distal bypasses being the same...
Read More on Dr. Humphries
Dawn Coleman, MD
I had a formative rotation as a third-year general surgery resident at the University of Michigan in Ann Arbor, during which I first assisted several large open aortic cases with Peter Henke. This followed what I now realize was the intentional outreach, support and mentorship from Gib Upchurch and John Rectenwald during my junior resident years...
Read More on Dr. Coleman
Fund the Future of Vascular Health
Your gift to the SVS Foundation is an investment into the Women of Vascular – past, present and future - while also supporting the mission of the SVSF!
Learn more and make your gift today!
Body
Thank you to our Exclusive Presenting Sponsor!
The SVS and SVS Foundation extend their sincerest gratitude to Boston ScientificTM for being the Exclusive Presenting Sponsor for our celebration of Women's History Month.