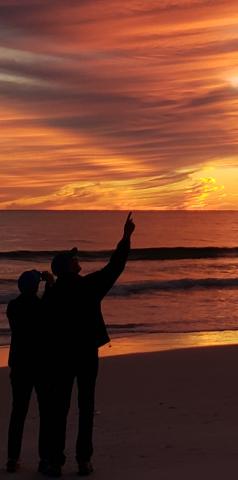 Jump to: 
Between 8 and 13 percent of Americans 65 and older have a common form of vascular disease called peripheral arterial disease, or PAD, which is often a sign of vascular disease throughout the body. The disease is even more common among Black patients. Vascular disease can be managed, but the more advanced the disease, the more likely the chances are of amputation and death. Diseases of the circulatory system -- of the veins and arteries -- are complicated to treat. Some require surgery.
Vascular surgeons are among the most highly trained of all medical professionals. Those who research vascular disease spend years finding new ways to treat the tiny veins and arteries that provide our life's blood.
Today, thanks to innovations, inventions and the brilliance of history-making scientists and surgeons, many more vascular patients live full and healthy lives. In addition, the Foundation supports community education programming aimed at decreasing the number of patients who require surgery.
The SVS Foundation, an arm of the Society for Vascular Surgery, partners with surgeons, researchers, government agencies and other groups to provide essential support for this life-saving science and community outreach.  
Our Mission Statement 
The mission of the SVS Foundation is to optimize the vascular health and well-being of patients and the public through support of research that leads to discovery of knowledge and innovative strategies, as well as education and programs, to prevent and treat circulatory disease.  
Our Vision Statement
Vascular surgeons will lead in the discovery and delivery of the highest quality and most accessible healthcare to reduce the complications of circulatory disease. 
Annual Report & Governance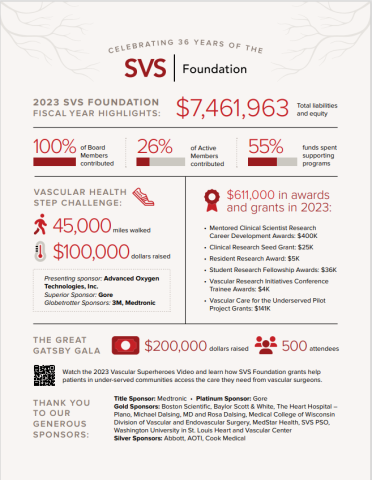 View the 2023 SVS Foundation Annual Report (shown at left)
View the 2022 SVS Foundation Annual Report 
 View the 2021 SVS Foundation Annual Report  
 View the 2020 SVS Foundation Annual Report
 View the 2019 SVS Foundation Annual Report  
 View the 2018 SVS Foundation Annual Report
 View the 2017 SVS Foundation Annual Report  
   
 View the 2016 SVS Foundation Annual Report
For more than 35 years, the SVS Foundation has been helping vascular surgeons help patients.  Strategic priorities include: Research & Innovation;  Community Vascular Care & Patient Education; Disease Prevention and Diversity, Equity and Inclusion.  Over $14M funded since 1987.
The Society for Vascular Surgery Foundation is a 501c3 tax-exempt charitable organization.
Federal Employer Identification Number (EIN): 04-3580038