Image

SVS & SVSF Celebrate AAPI Heritage Month
The SVS and SVS Foundation join together to celebrate Asian American Pacific Islander (AAPI) Heritage Month. The SVS and SVSF have created the Voices of Vascular Series to aid in the expansion of diversity, equity and inclusion initiatives throughout each entity. Visit this webpage throughout the month of May to explore profiles of various SVS members with AAPI heritage. 
Funding the Future of Vascular Health
Your gift to the SVS Foundation is an investment into vascular health – past, present and future - while also supporting the mission of the SVSF! Learn more and make your gift today!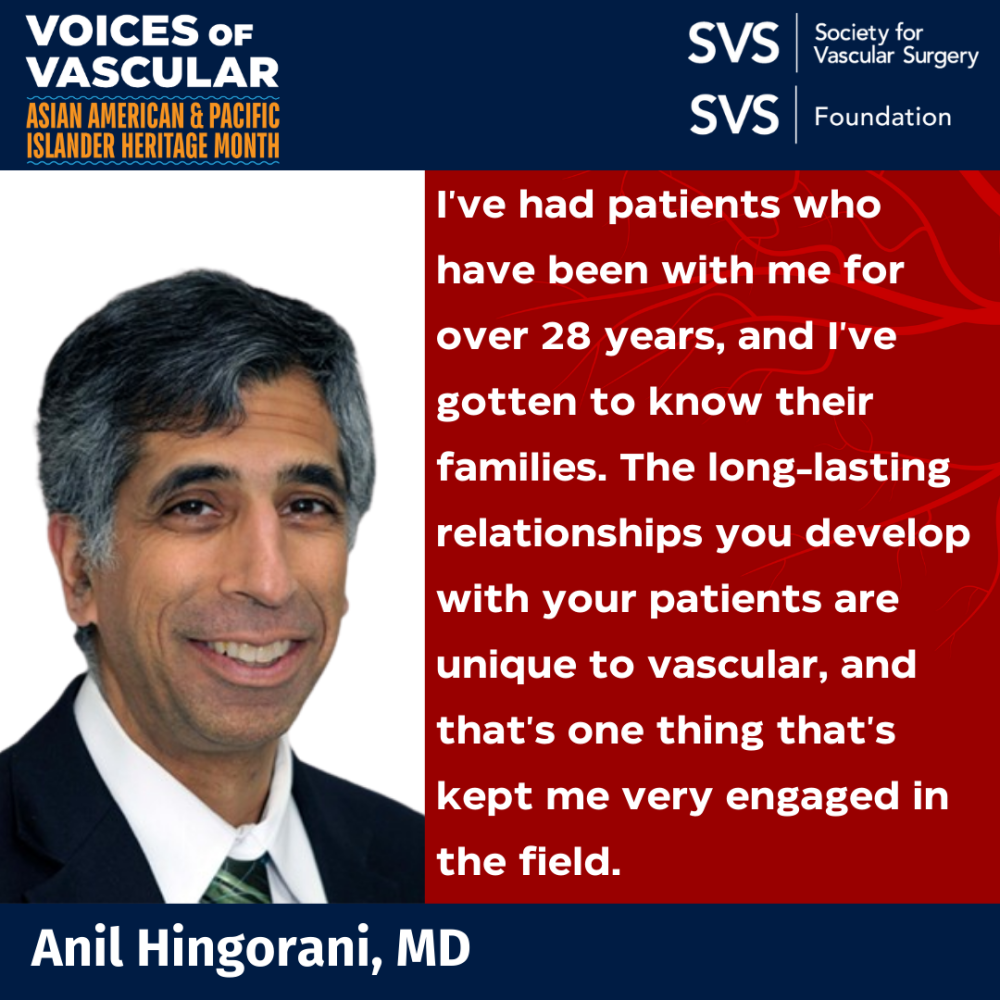 AAPI Member Feature
Anil Hingorani, MD, is a vascular surgeon practicing in the Borough Park area of South Brooklyn since the mid-1990s. Though originally from a small province in the northwestern part of India, he now enjoys boardwalk bike rides and the sunny beaches of Coney Island with his son. He is passionate about two things: his family and vascular surgery. 
Rupa Brosseau
Rupa Brosseau credits her Asian-American heritage for playing a significant role in shaping the person she is today. Her parents immigrated to the United States fifty years ago in search of a better future, and she was the first member of her family born in the land of opportunity. Her background gave her a unique perspective on approaching her work daily. 
Read More on Rupa Brosseau
Krishna Jain, MD
I was born in India and decided to move to the USA for further training in Surgery. When I was finishing medical school in India. 
I could have stayed in India for my post-graduate training or gone to England as most Indian medical students did at that time.
Read More on Dr. Jain
Wei Zhou, MD
May is Asian American and Pacific Islander Heritage Month. As I reflect on my own experience as an Asian American, I can't help but wonder, how did I get here? Am I the "model minority?" And where do I go from here?
Read more on Dr. Zhou
Young Erben, MD
Young M. Erben, MD, FACS, considers herself an early/mid-career vascular surgeon, meaning her accomplishments are still in the making. Her primary purpose and source of motivation is to coach and inspire current medical and pre-med students to pursue their passion in Medicine and the specialty they choose.
Read More on Dr. Erben
Body
Executive Director of the SVS Foundation, Rupa Brosseau celebrates her AAPI heritage this month and every month. Join her in celebrating AAPI Heritage Month by visiting this page each week to see profiles of SVS members (and staff) and by contributing the SVS Foundation.