Dad walks his daughter down the aisle, thanks to new program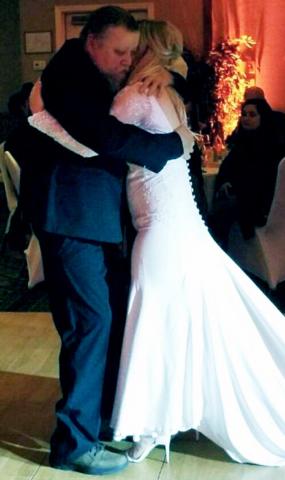 Raymond Whaley was not going to let his youngest daughter down on her wedding day.
It wouldn't be easy. Seven weeks earlier his left lower leg was amputated after a freak fall that broke his ankle and left him with a non-healing wound due to his advanced diabetes. If he had not lived near the site of a pioneering program at the University of California Fresno, funded in part by the SVS Foundation, he would not have received ground-breaking care.
And if he hadn't been so determined to walk, he would not have stunned every single wedding guest – and his daughter Rebecca.
 
On that beautiful day in March 2020 (just days before the pandemic shut everything down), his oldest son rolled him in a wheelchair to the back of the aisle where Rebecca waited, holding her flowers. She expected him to roll at her side as he had at rehearsal. Instead, Whaley slowly stood.
Guests began to weep. Rebecca couldn't believe her eyes. She took his arm, and very slowly he walked with her, on a prosthetic he had received 72 hours earlier, to the front of the gathering.
"Everyone was crying," he recalls, "but I was just focused on the ground and on taking one step at a time. I was not going to let her down. When we got to the front, I told her, 'See baby, we did it.'"
Later that same evening, he got out of his chair and danced two dances with his daughter.
Whaley is retired with a large family nearby. His life was great until he caught his foot in a hole and fell. Two trips to the hospital failed to detect that the ankle was broken. Because he has advanced diabetic neuropathy and could not feel his legs or feet, he kept walking on the broken ankle. Two months later, his wife noticed his leg was twisted sideways and began yelling for him to sit down.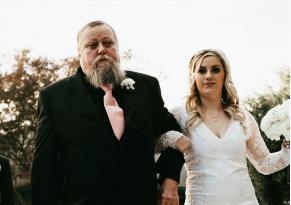 In the hospital, he was told it might be possible to save his leg, but he would probably be better off amputating, given the degree of deformity now compounded with open wounds and infection. Thinking about the upcoming wedding, Whaley said, "let's do it."
Due to his optimistic nature and determination to walk down the aisle, he qualified for a new pilot program, Lower Extremity Amputation Pathway (LEAP), run by vascular surgeon Dr. Leigh Ann O'Banion at the University of California Fresno. This protocol, developed by Dr. O'Banion, engages a multidisciplinary team of social workers, physical therapists, and prosthetists in addition to the surgical team, with the goal of early physical therapy and discharge to an acute rehabilitation hospital as soon as 48 hours after surgery. Once discharged to rehab, he went through four hours of rigorous physical therapy daily. Early on, he also began working with a prosthetist and their support staff so that he would be ready to begin walking as soon as he received his prosthetic.
In 2019, Dr. O'Banion earned one of the first Community Awareness and Prevention Project grants offered by the SVS Foundation. Pre-pandemic results have been extremely promising, she said. Compared to her previously published work on dysvascular amputees in Fresno, length of hospital stay after amputation was decreased 50 percent, or three days, on average. Additionally, all LEAP patients received their prosthetics (compared to 54%) and walked an average of 56 days sooner than historical controls.
COVID-19 restrictions put a freeze on the study, but LEAP offers such extraordinary promise that all three of central California's Community Medical Centers will adopt its protocols as a standard of care for lower extremity amputees.
The pandemic also cut off Whaley's therapy visits for months, but didn't dampen his spirit. He continued his exercises on his own during the lockdown.
"I wear my prosthetic every day and walk as much as I can with it," he says. "I'll never give up."
Photos courtesy of the Whaley family and Dr. O'Banion.