Image

SVS is working to deliver a prime education program for this year's conference in National Harbor, Md. Additionally, events are being planned to encourage attendees to unwind and take time for themselves, their families and friendships. Visit this page to learn more about these new VAM events and to access VAM resources as well as other sites focused on dining, shopping, tourist attractions and more. Plan to build in time for yourself while at this year's meeting - you won't regret it.
Body
VAM23 Mobile App
Download the SVS Events app to access all of the meeting details from your mobile device! The SVS Events app serves as the container for the VAM23 app.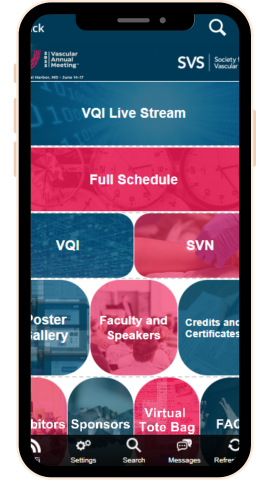 Please note, if you downloaded the app for a previous meeting, you will need to uninstall and then reinstall the app for VAM23 info to appear. 
After you download or uninstall/reinstall the app, you will follow the steps below.
Open the app. 
Click the button that says "Click Here to Access SVS Events Conference Apps."
Select the top button that reads "2023 Vascular Annual Meeting | June 14-17, 2023.
Press "Login."
Enter the username associated with your SVS account. 
Enter the password associated with your SVS account. 

If you do not know your password, click "forgot username or password." 
Enter the email address associated with your SVS account.
You will then receive an email with a link to reset your password. 
After you reset, repeat the first six steps. 

Accept the terms and conditions and continue. 
Complete your profile. 
Continue to the main screen. 
If at any time, the data in the app seems off, please click the "Refresh Data" button on the bottom right-hand corner of the screen.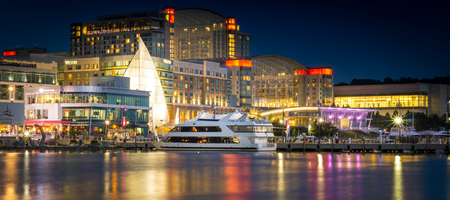 About National Harbor
National Harbor is filled with unique experiences, beautiful scenery and opportunities to make the most of your VAM23 experience. From the blooming cherry blossoms to the trendy shops and expansive dining options, National Harbor is a great place to explore with your family, friends and peers during downtime at VAM23. Don't forget that Washington, DC is only a 30-minute car ride away, take time to visit the monuments, explore the Smithsonian and more. 
While in National Harbor:
SVS Connect-@VAM: Building Community
The SVS is excited to announce the first annual SVS Connect-@VAM: Building Community. This event gives attendees the opportunity to interact with colleagues, peers and family in a festive atmosphere that highlights the importance of balancing your VAM experience in education, connection and taking the time to recharge. The lawn of the Gaylord National will come alive with food stations, games and activities and entertainment all focusing on the mission of community and providing a space for balance between education and fun!