VAM 2022 Streamed Sessions
Streaming the meeting? Learn everything you need to know before you stream here. 
Live streaming debuted at the Vascular Annual Meeting in 2021 and proved valuable for those who couldn't travel to San Diego. For VAM22, live streaming has been expanded, perfect for those who don't have the monetary OR time budget but still want to catch the latest science and earn Continuing Medical Education and Maintenance of Certification credits. 
The option will include all scientific plenary sessions, special lectures and forums – exciting, interesting sessions that will give the at-home viewer cutting-edge research, educational content, diverse food for thought and useful tips for their practices.
The live-streamed international sessions will be held in the early morning, to enable international attendees to watch sessions, particularly applicable to them during their daytimes, and not late at night. 
Please note the CME credits available to claim with attending the live-streamed portion of the meeting VS the in-person meeting indicated by the graphic below. The totals consider that you cannot earn more than 12 credits per day (per ABS) & that credit for simultaneous sessions cannot be earned. See the accreditation page for more info.
All session recordings will be available to in-person and virtual attendees for three years following VAM22, however only the live sessions will be available for CME claiming.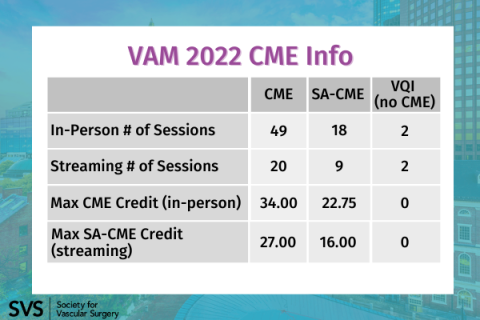 | | |
| --- | --- |
| Session | Time |
| Tuesday, June 14, 2022 |   |
| VQI | 12:00-6:30 pm |
| Wednesday, June 15, 2022 |   |
| International Fast Talk | 6:30-7:30 am |
| Plenary Session 1: von Liebig Session | 8:00-9:30 am |
| VQI | 8:00 am-5:00 pm |
| Plenary Session 2 | 9:45-10:45 am |
| Crawford Forum | 10:45 am-12:15 pm |
| VESS | 12:45-6:30 pm |
| Thursday, June 16, 2022 |   |
| International Chapter Forum | 6:30-8:00 am |
| Plenary Session 3 | 8:00-9:30 am |
| Greenberg Lecture | 9:30-10:00 am |
| Awards Ceremony | 10:30-10:45 am |
| Plenary Session 4 | 10:45 am-12:00 pm |
| TOS | 1:30-3:00 pm |
| Aberrant Vascular Pathologies (Zebra) | 3:30-5:00 pm |
| Friday, June 17, 2022 |   |
| World Federation of Vascular Societies | 6:30-8:00 am |
| Plenary Session 5 | 8:00-9:30 am |
| Plenary Session 6 | 10:00-11:00 am |
| Presidential Introduction & Address | 11:00 am-12:15 pm |
| DEI | 1:30-3:00 pm |
| The failing and failed EVAR | 3:30-5:00 pm |
| Saturday, June 18, 2022 |   |
| International Young Surgeons Competition | 6:30-8:00 am |
| Plenary Session 7 | 8:00-9:30 am |
| Homan's Lecture | 10:30 am-12:00 pm |
| Plenary Session 8 | 10:30-12:00 pm |
| Management of Vascular Trauma: Exploring Consensus in the Who, Where and How Admidst Subspecialized Training and Practice | 1:30-4:30 pm |