How the SVS Foundation helps to educate patients and communities on vascular disease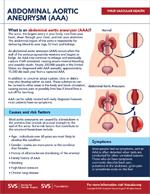 Educating patients and raising community awareness of vascular disease and treatments is part of the mission of the SVS Foundation.
When you donate to our Awareness and Prevention Fund, you help to assure that more people understand how to manage their health and when to seek treatment for vascular disease.
​SVS members know that many of their patients are unaware of the effects of cigarette smoking on their vascular heath, as well as the benefits of exercise, weight management and a healthy diet. Through our efforts, this fund aims to work with individuals and communities to save lives and limbs.
Towards that end, the SVS Foundation has provided a wide range of web pages, online and printable fliers and supported community projects to help everyone understand the importance of good vascular health. We offer printable fliers in English and Spanish on many vascular diseases. These fliers are public source and not copyrighted. They can be printed and used by anyone, courtesy of donors like you.
The SVS Foundation and the Society for Vascular Surgery also offer sharable online information pages, available on the SVS website. Follow the link below to access all content for patients, families and community use.​